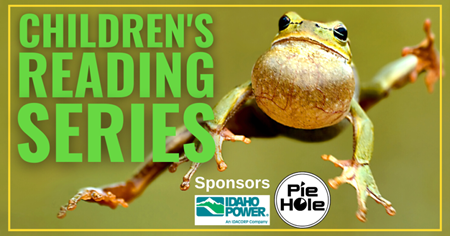 Date: 3/13/2023 4:00 PM – 3/13/2023 5:00 PM
Location: Library! at Bown Crossing
Cost: Free
Tickets: Free
Category: Theatre
Find it on Facebook
Boise Contemporary Theater
The acclaimed Children's Reading Series is a beloved Boise Contemporary Theater program that presents the best of contemporary children's theater in a creative environment that is accessible to audience members of all ages. Drawing on one of the oldest traditions in theater — "hearing a play" — audience members will experience professional actors bringing engaging stories to life.
This month's children's reading features The Celebrated Jumping Frog of Calaveras County. Adapted by Joseph McDonough, this rambunctious adaptation of Mark Twain's classic short story tells the tale of schemer and braggart Jim Smiley, who decides to make his fortune by entering his frog in the first annual Calaveras County Frog Jumping Contest. Smiley has certainly had his share of good luck, but the people of Calaveras County are getting a bit tired of being duped by Jim, and they may just have a scheme of their own…
The reading is available through ticketed performances at BCT, as well as events on March 13th at the Library! at Bown Crossing, and March 14th at the Library! at Hillcrest. Boise Public Library readings are free and open to all!
Boise Contemporary Theater is the 2022-2023 City of Boise Cultural Ambassador. Learn more.
SOURCE: https://www.boiseartsandhistory.org/events/2023/march/childrens-reading-series-the-celebrated-jumping-frog-of-calaveras-county-at-library-at-bown-crossing/